What to do if your order is in polling?
General information
Polling is the order status 5.3. (Mark print error). This occurs in case the delivery address was entered incorrectly into the "Shipping info" section. As a result, the prep center fails to generate a shipping label for the carrier.
Details about those orders are available at the Dashboard of the client, in the "Order count by status" section:


!Besides, with correctly configured notification, you will receive email notifications.
Enter your email in the field "Notify e-mail address for order polling" in the section "Address", which you find in the company settings: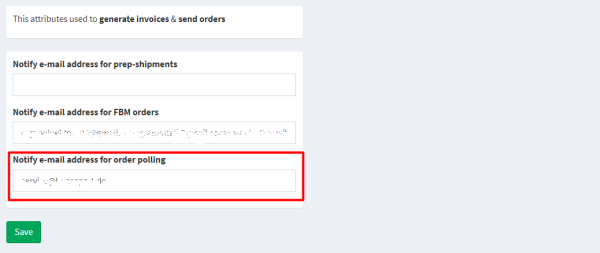 How to correct orders with the polling status
On the right side of the window, you see a red box. This indicates the reasons for polling;

Problematic fields, in which incorrect data is entered, are highlighted in red. To check and correct data, place the cursor into the highlighted red field and use one of the tools:

Postdirect search - postcode search service by name of the city/street;
Google search - standard Google search service, which shows the correct name of the city/street;
Here search - internal Ysell service, which shows the correct data, according to the entered post index.


After the status of your order has changed to 5.1. (Prepared on prep-center), you need to click the Reset in Status 3 button, which is in the "Order contents" field. This step is necessary for the warehouse to update the data on your order and to re-print the label.

Additional functions
There are additional functions of the "Delivery address" field

In practice, there are exceptions when the client entered the address correctly but the carrier's system doesn't recognize them. If you are sure of the correctness of the entered address, then check the box on the "Force print" field, to transfer them to the carrier.
!Important: This is a paid feature only.

The "Send email to client" function sends a letter to the client, with a request to provide correct data.